What are some disability insurance benefits?
Disability insurance offers critical income protection when your clients experience unexpected illnesses, injuries, or even things like pregnancies that take them out of work for weeks, months, or years.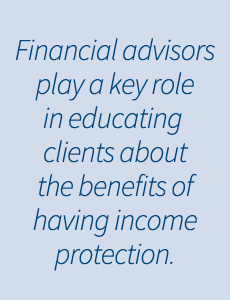 Working adults are increasingly finding it difficult to cover out-of-pocket, unexpected costs. Recent studies show that paying a $400 bill would be difficult for almost half of U.S. households. By including disability insurance, your clients' income will be protected if they need to miss work for an extended period of time. This means they'll be able to keep their lives and their bills in order.
Financial advisors play a key role in educating their clients about the benefits of having income protection. The Council for Disability Awareness was first formed in 2004 as a way to build knowledge and understanding about this issue. To help your clients understand their needs, we have a library of resources and tools you can share, such as:
Use our calculator to figure out your client's needs.
Use our Personal Financial Security Plan to build a strategy.